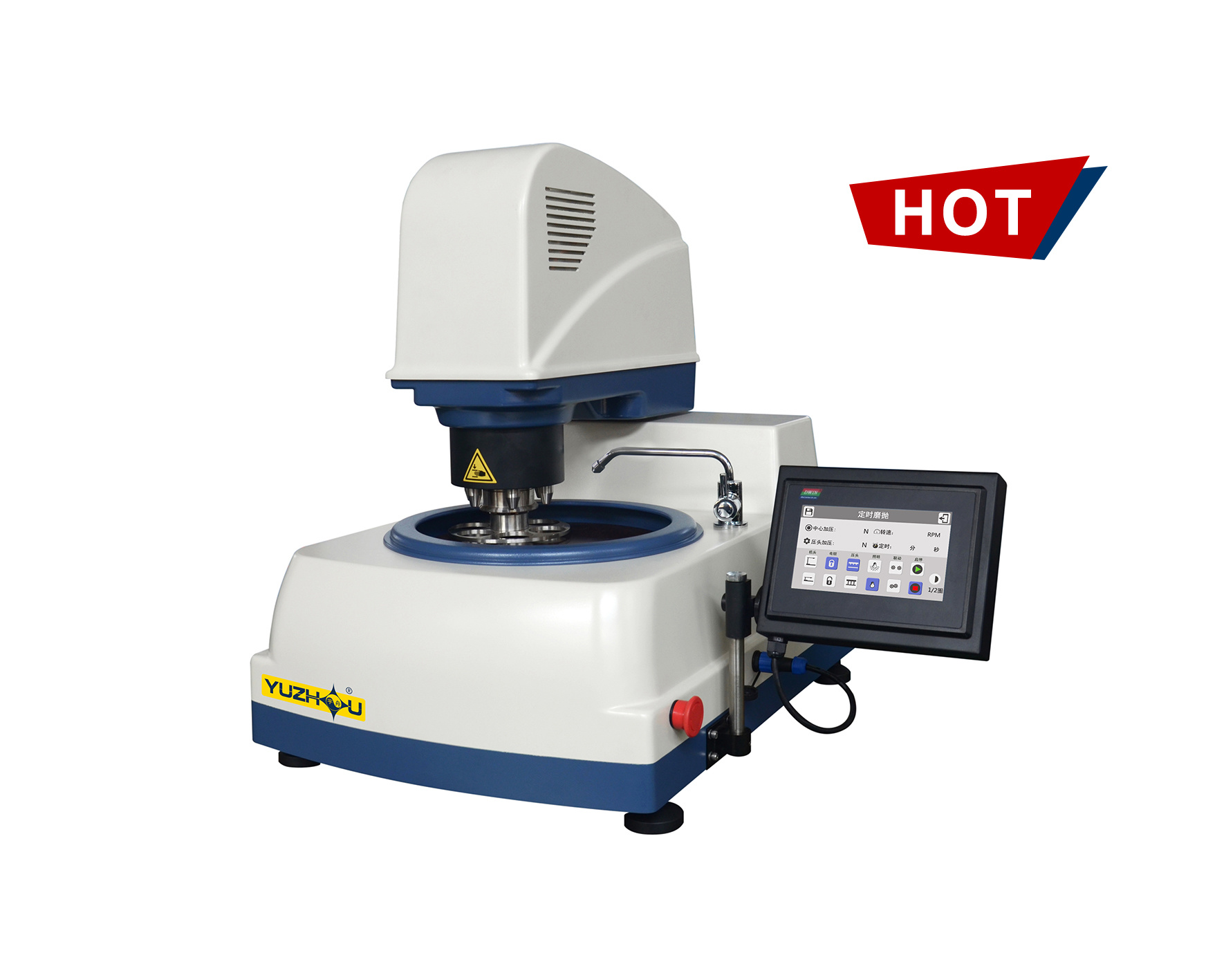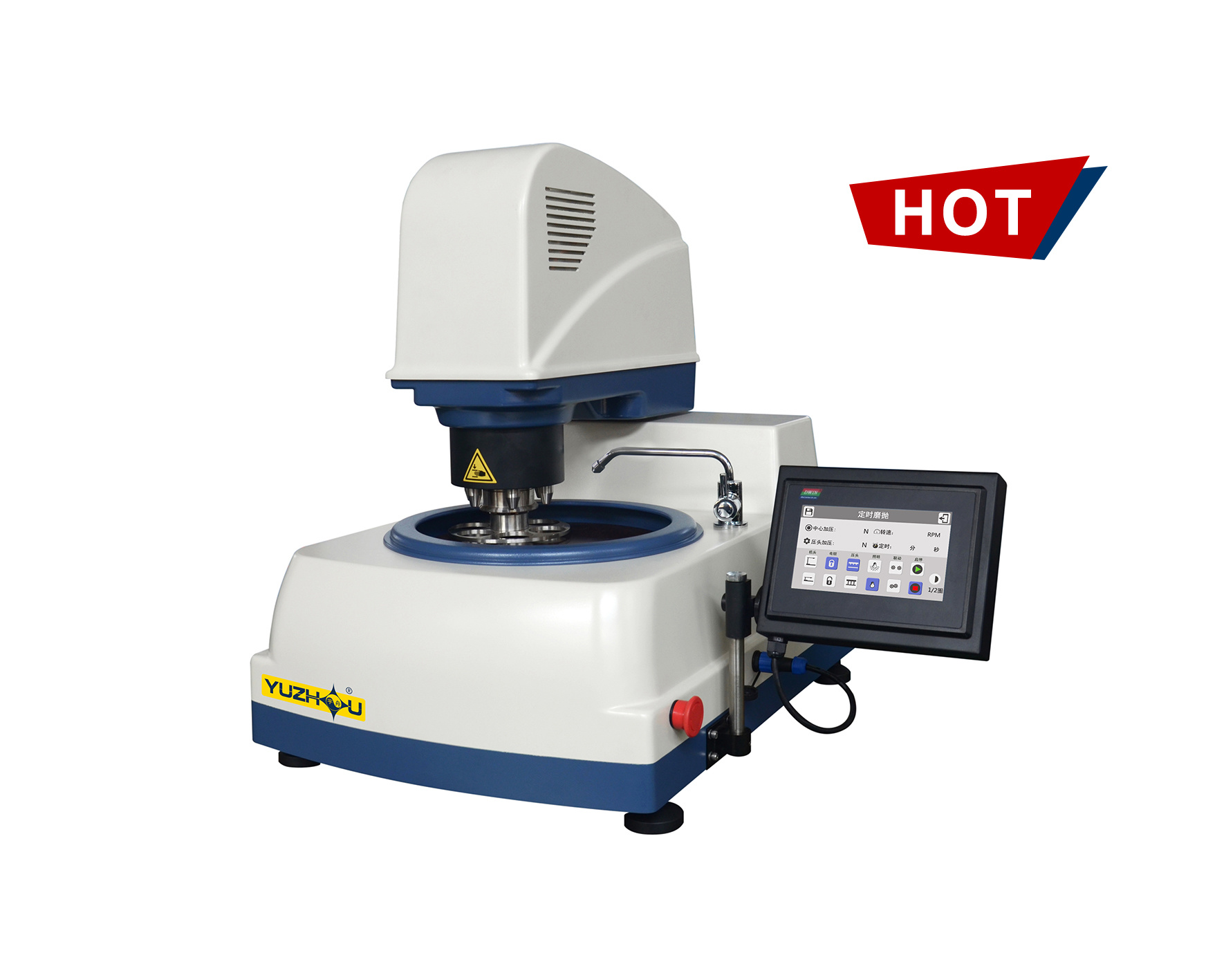 YMPZ-1-300/250 Automatic Metallographic
Sample Grinding and Polishing Machine
Introduction:
This model is a single-chip microcomputer controlled grinding and polishing machine. The shell is formed with ABS material, which is beautiful in appearance, anti-corrosion and durable. It is stepless speed control and can change the rotational direction. The grinding head has individual pressure and central pressure two methods. This machine can effectively replace the manual grinding and polishing processes, which greatly saves labor and improves the quality of grinding and polishing and the efficiency of sample preparation. Therefore it is the ideal equipment for the metallographic sample preparation.
Features:
1. With high-definition LCD touch screen, the operation is easy and the display is clear and intuitive.
2. It is an automatic grinding and polishing system, the time and speed can be set and the water value is automatically controlled, which can effectively replace manual grinding and polishing.
3. With special self-adaptive design of grinding disc, it makes the sample and grinding disc fit perfectly, which effectively solve the multi-faceted phenomenon and ensures the consistency of grinding surface.
4. With the automatic locking function of the grinding head, the operation is safe and convenient.
5. With magnetic grinding disc design, it supports for fast disc replacing system. The disc surface is Teflon painted which makes no residue of changing abrasive paper and polishing cloth.
6. The motor is DC brushless motor which has long service life and low noise and powerful motor brings strong power and efficient grinding and polishing experience.
7. Strong large support chassis design ensures the precision rotary balance. Spindle leak-proof design ensures the bearing without damage.
8. It can store ten kinds of grinding and polishing procedure, set different parameters for different samples.
9. With semi-rotating design of the grinding disc and the inner lighting system, it easy to take and place the samples.
Technical Parameters:
Model

YMPZ-1-300

YMPZ-1-250

Disc Diameter

300mm

254mm

Abrasive PaperDiameter

300mm

250mm

Disc Speed

Stepless speed 50~1000r/min

and Four speed 250, 500, 750, 1000r/min

Disc Rotational Direction

Clockwise and Counterclockwise

Disc Electromotor

DC brushless motor, 220V, 1.5kW

Head Electromotor

DC brushless motor, 220V, 750W

Head Speed

Stepless speed 20~120r/min

Timing Set

0~99min

Sample Holding Qty.

6 pcs

Sample Holder

Specification

Φ25mm, Φ30mm, Φ40mm (Choose one)

or Customized specification

Pressure Method

Individual pressure and Central pressure

Individual Pressure Force

0~50N

Central Pressure Force

0~160N

Control and Display

7 inch LCD touch screen

Power Supply

220V, 50Hz, 8A

Dimensions

800×800×760mm

Net Weight

96kg
Packing List:
| | | |
| --- | --- | --- |
| Name | Specification | Qty |
| Machine Body | | 1 set |
| Grinding Head | | 1 pc |
| Sample Holder | | 2 pcs |
| Sample Leveling Plate | | 1 pc |
| Grinding and Polishing Disc | 300(254)mm | 1 pc |
| Magnetic Disc | 300(250)mm | 1 pc |
| Metal Disc | 300(250)mm | 4 pcs |
| Abrasive Paper | 300(250)mm | 6 pcs |
| Polishing Cloth | 300(250)mm | 2 pcs |
| Water Inlet Pipe | | 1 pc |
| Water Outlet Pipe | | 1 pc |
| Water Inlet Filter Screen | | 1 pc |
| Air Pipe | | 1 pc |
| Head Connection Cable | | 2 pcs |
| Inner Hexagon Spanner | 3mm, 5mm, 6mm | each 1 pc |
| Usage Instruction Manual | | 1 copy |